Our multipurpose Bunny teether can be used during all teething stages, which is possible due to the fact that it consists of several elements of varying hardness level and combines exercise for both gums and teeth. In the first stages of the teething period, the soreness of the gums will be overcome by using the softest part of the bunny – its textured head. After a while, your little one can nibble the harder parts – bunny's body and carrots. Our bunny teether also plays a vital role in assisting in the eruption of back teeth – the bunny ears are designed in the shape of a gumshield so it easily reaches the most distant gums. All these features are blended together into a multifunctional device which helps your baby choose the right element according to the teething stage. It means that you don't have to buy several different teethers for each purpose anymore!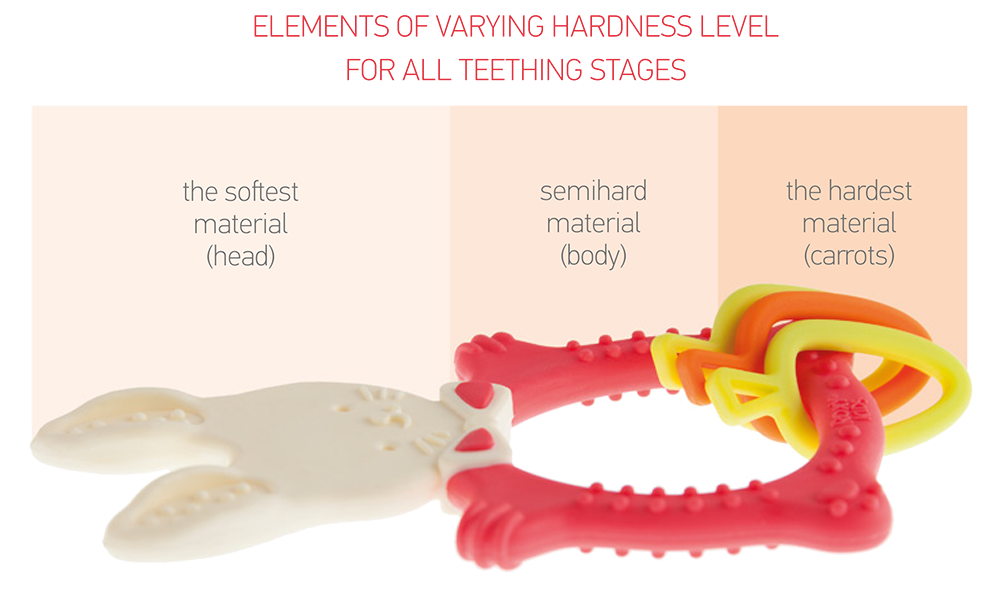 Another principal feature of the Bunny teether is its circular body which perfectly fits little hands. Your child can hold the teether easily which helps develop fine motor skills.
The teether is made of safe hypoallergic materials, thermoelastoplast and polypropylene, which means that your baby can play with the teether, chew it and gnaw it all day long. Another obvious advantage of using the Bunny teether is that it is designed as a cute bunny, it attracts children's attentions and functions as a great toy!